Create for Good.
Champion your life's work through the arts and technology.
Julia's taste is impeccable. She helped our team at Idealist to make a microsite with a polished, eye-catching aesthetic. She took our brand and imagery and crafted the perfect engaging experience.
I admit it, I am a tough customer. Julia met my high standards with skill and enthusiasm. Her knowledge, skill and craft mixed with her genuine kindness and sense of humor makes her the ideal site builder you complain about not having when you go with someone else.
This collaboration has been such a privilege and joy. You are an insanely talented composer whose music lifts my heart. Thank you for being so generous, fun, and wonderful to work with!
Julia is friendly and professional, and she communicates well. She paid attention to our problems to see the big picture, and also seemed to understand and care about our campaign issue. She was well-organized and managed the overall
project and timeline well!
Julia is creative and organized at the same time. She infuses every project with joy and enthusiasm. Her work is of the highest quality as she is constantly learning and adding new skills. She's adaptable and a great communicator.
What a tremendously wonderful experience. I can't tell you how much I enjoyed performing your pieces…they are superb.
What You Need
Expert, Beautiful Creative Content.
---
Julia Barry Productions helps progressives, educators, caretakers, and creatives to champion their causes elegantly and effectively.
With an MA in Interactive Media and extensive background in tech and the arts, I create with the best practices for you and your audiences.
I'm a rare bird: both creative and organized. We can brainstorm your wildest dreams, then make them real with robust plans and oversight.
When you work with me, I give you my personal attention, along with all of the experience I bring to the table and the amazingly talented people I know, should we need their services.
I'm transparent about where we're at in our process and responsible to deadlines. I don't disappear, and always see things through until they're finished.
Your work is important to you and to your audiences, and I love that I can get behind your aims. I truly care about the best impact we can make together.
I'm a thorough listener, so I can deliver what you want the first time. And in the rare case that I don't, I work until we get it right. Your happiness is important — in fact, it's my ultimate goal to help you reach your own.
My work is tailored to your specific goals and can help alleviate the pressure to "do it all."
I work on a sliding scale to meet your budget whenever possible.
I explain things in a language we both can communicate in. No elite jargon.
And when all is said and done, you can count on me to store an organized backup of your site, media, and information that we've worked on together for troubleshooting or new projects down the road.
If you'd like to speak with someone who has worked with me, I'm happy to refer you.
Time For A Story
History & Mission
---
I'm a tech geek and composer based in Brooklyn, New York. With an MA in Interactive Media, I'm passionate about ways technology and the arts can promote community, culture, and progressive activism. My studio, Julia Barry Productions, serves artists, educators, advocates, wellness practitioners, non-profit groups, and anyone putting goodness into the world. I look forward to hearing about the awesome work you do!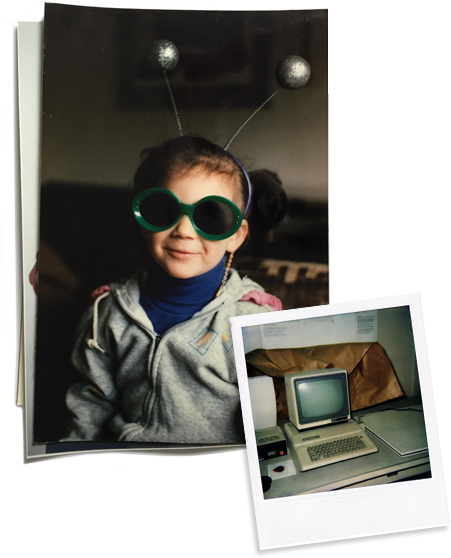 The '80s
I was a quirky kid who played piano without being told to and enjoyed computer games engineered by my dad on our very first Apple desktop. Dress up was a daily event. "Why," "What if?", and "How about?" were frequent questions.
The (Even More)
Awkward Years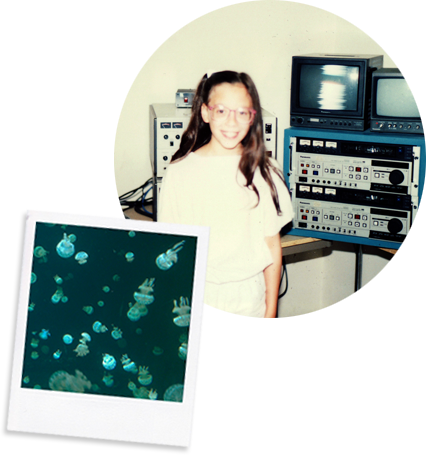 The '90s
Heading toward middle school, I became obsessed with science and tech, particularly marine life and photo/video. I wanted to be a nature photographer. While the idea of sitting in a bird hutch all day is no longer appealing (talk about long hours!), I still love aquariums, watch Cosmos, and listen to RadioLab.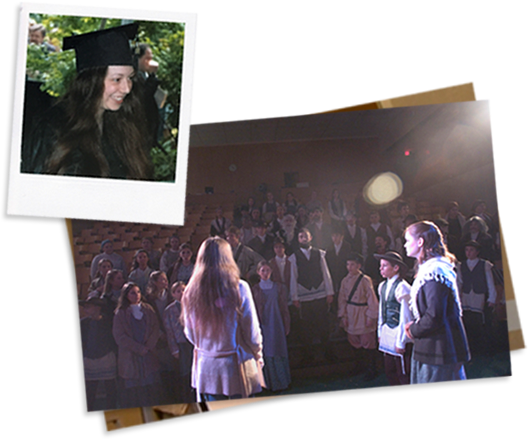 The '00s
After graduating Sarah Lawrence College, I gave talks and workshops on media and women's health at events such as NAMLE and NOW's Love Your Body Day. I consulted and began to help activists use an expanding digital landscape to promote their work/platforms. I also did random but fulfilling things like teach Photoshop at night school and music direct a middle school rendition of "Fiddler on the Roof."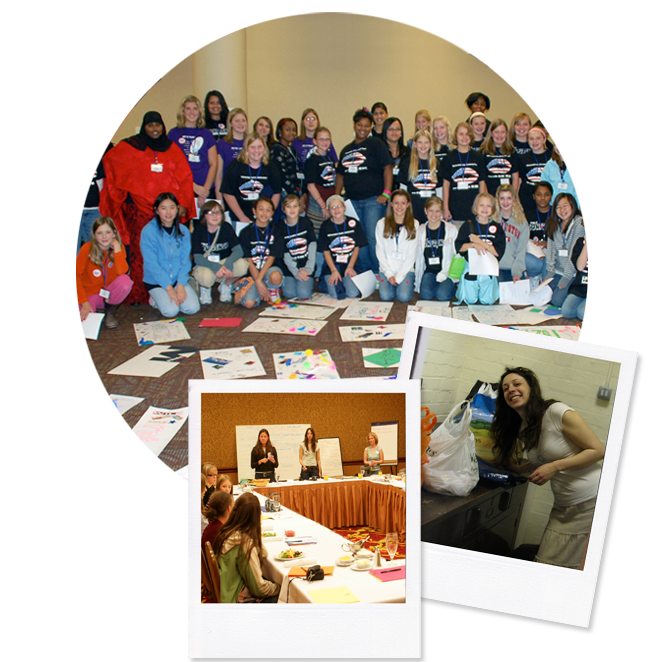 The '00s
Aiming to unite activists and artists already doing amazing work, I created StirUpChange during my graduate studies at Goldsmiths College (U of London)–a website offering timesharing and resources for progressive change efforts. Returning to the U.S. with my MA in Interactive Media, I worked with companies such as New Moon and SheWrites, furthering my dedication to using tech for good as web designer and music maker at Julia Barry Productions.
The '00s
Oh yeah. I also wrote music, organized large events, and toured a bunch, at the same time.
'Cause why not?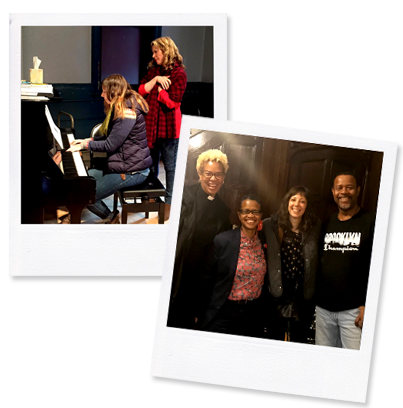 Current Day
Now, I channel my love of collaborative story-telling in making a full range of creative content, whether you need a gorgeous website for your start-up business or a gorgeous song for your non-profit benefit. I also create collaborative events and spaces that contribute to equity efforts and celebrate diversity. All ways, I focus my time on working with people who do progressive good in the world.
NOW, YOU.
ASK. TELL. SHARE. GO FOR IT.